Choosing the Right Name For Your Brand – Tips For Your Naming Sprint
Selecting the perfect name for your brand is a critical step in the branding process. A well-crafted brand name can resonate with your target audience, convey your brand's values, and set you apart from competitors. But, the process of finding the ideal name can be challenging and time-consuming. This article will provide valuable tips to navigate your naming sprint successfully, helping you make informed decisions and choose a brand name that truly reflects your vision and connects with your audience.
BEFORE THE MEETING
REFRESH ON THE BRAND STRATEGY
Before assessing any new brand name, ensure you and your stakeholders clearly understand the company's brand strategy. This involves knowing the belief that drives your organization, the high-value target audience segments, your brand positioning, and the desired brand values. A brand name should reflect and reinforce these strategic elements, strengthening the overall brand equity and perception.
DECIDE ON WHO WILL BE INVOLVED IN THE APPROVAL PROCESS
The number of stakeholders involved in approving a new brand name can vary. At BLVR®, we counsel Clients that while having diverse perspectives is important, including too many stakeholders can complicate the decision-making process and potentially hinder progress. Strike the right balance — welcome team input in the early round, but nominate a few decision-makers with a good understanding of branding and the business's strategic objectives to make the key decisions at each round of name development. 
DURING THE MEETING
BE OPEN TO IDEAS
If you are working with an agency like BLVR®, approach the naming presentation with an open mind. Listen attentively to the agency's ideas and concepts, considering the unique perspectives they bring to the table. Encourage a collaborative atmosphere that fosters discussion and creative exploration.
BEGIN BY EVALUATING STRATEGICALLY
When it comes to evaluating names, it's natural to begin with a gut reaction to the names. The best place to begin is by assessing the strategic fit. We have a six-checkpoint system we use to review this:
Does it match the brief?
The brand name should match the brief that's been agreed upon. Assess how it maps back to each element of the brief, from the belief system [HYPERLINK TO A BELIEF ARTICLE] (a.k.a the core conviction that runs through your organization) to the positioning statement, target audience personas and organizational values.
Is it distinctive and memorable?
A strong brand name should be distinctive and memorable. Be sure to evaluate if the proposed name is unique enough to stand out in the competitive landscape and create a lasting impression in consumers' minds to foster brand recall.
Is it scalable and adaptable?
A good brand name has the potential to grow and adapt to your company's evolution. Assess if the name is flexible enough to accommodate future expansions, new product lines, or shifts in the market. Avoiding overly specific or limiting brand names allows for greater versatility and longevity in the brand's lifespan.
Does it have phonetic and visual appeal?
Consider how the name sounds when spoken aloud and looks in written form, ensuring it does not lead to confusion or misinterpretation. Simplicity and clarity in a brand's verbal and visual aspects can significantly contribute to its success.
What are the cultural and geographic implications?
For companies with a global presence, be sure to check if the name has any negative connotations or associations in different languages or cultures. Comprehensive market research and linguistic analysis can help identify potential pitfalls and ensure the brand name resonates positively across diverse markets.
Is it ownable?
When developing a brand name, it is crucial to consider the legal aspects. Is the name trademarkable? Are the domain and social handles available or able to be purchased for a reasonable fee?
BEGIN BY EVALUATING STRATEGICALLY
When it comes to evaluating names, it's natural to begin with a gut reaction to the names. The best place to begin is by assessing the strategic fit. We have a six-checkpoint system we use to review this:
NEXT, ASSESS EMOTIONALLY
Beyond strategic considerations, evaluating creative work from an emotional standpoint is equally important. An excellent place to start is to assess if the work evokes the desired emotional response. Because emotion plays a significant role in capturing the attention and establishing a genuine connection with the intended audience, ask yourself — will it connect with my target audience on a deeper level? Can our employees rally behind this name? Can we build meaning into this as time goes on?
FINALLY, ASK QUESTIONS AND SEEK CLARIFICATION
Conversation is key during a naming process. If any concepts or ideas are unclear, don't hesitate to ask questions and seek further clarification. Understanding the rationale behind a naming recommendation will help you make more informed decisions and provide constructive feedback.
The ROI of Branding Project
AFTER THE MEETING
TAKE TIME FOR REFLECTION
Encourage each team member to take a moment to reflect on the creative presentation and the names presented. Consider how well they align with your marketing objectives, brand identity, and target audience. Evaluate the potential impact and effectiveness of the proposed concepts.
CONSOLIDATE FEEDBACK
Work with your selected group of decision-makers to consolidate feedback from key organizational stakeholders. Consider different perspectives and opinions but work as a team to align on your feedback so there is a clear understanding of what you are expecting your agency team to do.
PROVIDE CLEAR DIRECTION
Based on your reflections and consolidated feedback, provide clear direction to the agency. Outline the specific revisions or adjustments you would like to see in the concepts presented and what is the rationale for such requests. Clearly communicate your thoughts by including likes, dislikes, and any other additional information necessary for the agency to proceed.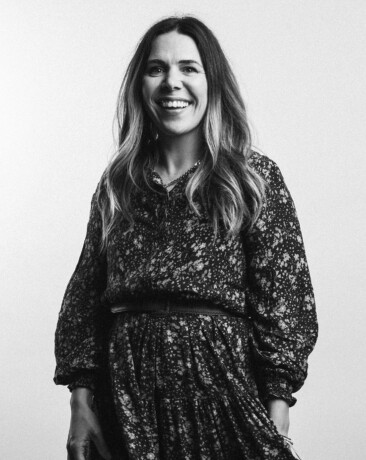 Lenya McGrath
Executive Director Strategic Impact & Growth
Lenya leads business development at BLVR and is well-versed in partnering with clients to drive long-term value for their organizations. She honed her craft working on global brands like Procter & Gamble, Anheuser-Busch, Sony, and Canon at leading agencies, including Saatchi & Saatchi, Leo Burnett, and BASIC. A master of purpose-led creativity, her work has been honored by the Effie Awards and the prestigious Cannes Lion Festival.