While this past season has not been without challenges, BLVR has experienced substantial growth by bringing aboard five new members to our team. We are continuously evolving as an agency and with this new wave of team members, we are expanding our reach and deepening our capabilities to take on what's next.
BLVR's new hires hail from a wide range of backgrounds and places around the country. Creative, smart, and driven, these individuals were drawn to BLVR because of our unique approach to brand building and the family oriented culture we've developed. Together, they join an established team of creatives, strengthening and elevating our collective ability to empower brands to make the greatest impact.
Let's meet them:
Erica Hernandez, BLVR's Account Director, came to San Diego from New York City, bringing to the team a background in traditional and digital advertising. She has worked for award-winning international brands and local start-ups like Papa Johns, Olive Garden, 3M, and Skullcandy. Among her many strengths, she is especially skilled in building client relationships and creative strategies that take BLVR to the next level.
Austin Lane leads BLVR's artistic vision as Creative Director with more than a decade of experience in design and advertising. He has worked with a wide range of clients including Transworld Surf Magazine, Victory Motorcycles, Polaris Snowmobiles, MillerCoors, The North Face, Eddie Bauer, and Harrah's Resort Southern California, and has been recognized by the ADC Awards, One Show, Communication Arts, Lüzer's Archive, Adweek, Ads of the World, National Addy's, and The Denver 50. His artwork has been shown in Colorado, California, Georgia, and New York. He brings a passion for leading and inspiring teams to go above and beyond to break through the noise.
Nathan Pitzel brings over 15 years of experience in digital production to his role as BLVR's Director of Digital and Production. He joins the team after having served as director of digital production at Chiat Day, where he fostered innovation and worked with international brands including Taco Bell, Gatorade, PlayStation, Nintendo, AirBnB, Kraft, The Grammys, and Pop Secret. His work has been recognized at Cannes, One Show, and ANDYs, among others. He has a heart for collaboration and believes it is the foundation for building impactful brand experiences.
Maggie Speciale, BLVR's Senior Strategist, has a decade of experience building and positioning brands across a wide range of verticals. She has partnered with leading brands including Nordstrom, TABASCO, Disney, Bare Escentuals, Cox Communications, Gruppo Campari, Cisco Systems, and Union Bank. She brings to the team a passion for helping brands better understand their customers, identify competitive white space, and articulate their purpose in meaningful ways.
Emma Farrell, BLVR's newest Account Manager, comes aboard with a background in content production and digital advertising. She has experience working with clients across multiple industries. These include Chili's Grill & Bar, New Belgium Brewing, Harrah's Resort Southern California, and Catalina Island Chamber of Commerce. Her love of film and digital photography, keen eye for design, and passion for client service combine together to form long-lasting partnerships rooted in authenticity and collaboration.
This new cohort of team members brings years of experience in digital production and advertising, brand design, brand strategy, and account management. As BLVR continues to grow into new spaces and takes on new challenges, our team is more equipped than ever before to see our vision through and fearlessly live out our beliefs.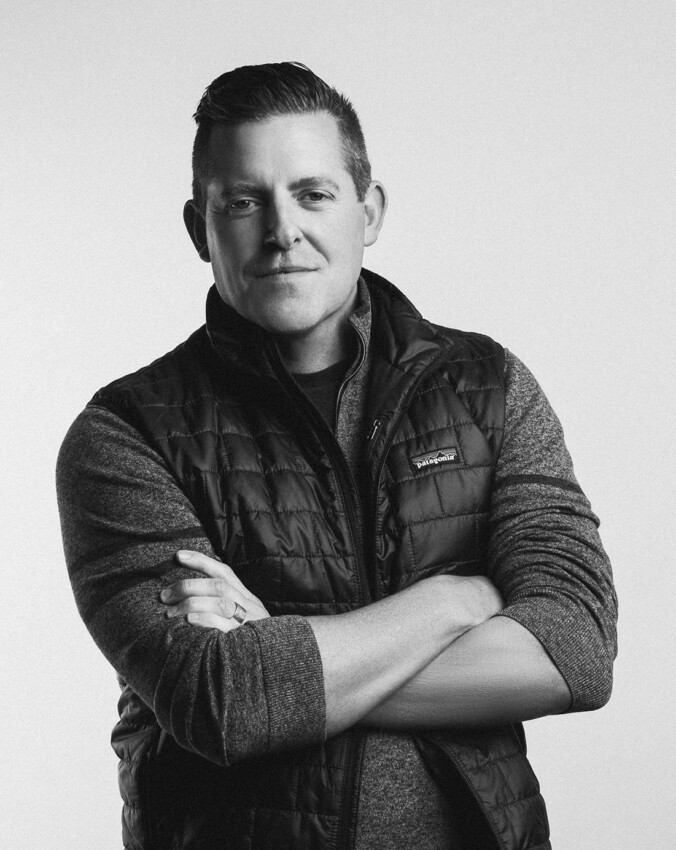 Scott Hancock
BLVR's brand-belief approach is at the heart of everything the company does. Scott brings over a decade of award-winning strategic creativity, design, brand, and business-building experience to global brands like Andis, Vessel, Futures Fins, and TravelWifi.
Previously, Scott founded Risen Magazine, a pop culture publication distributed nationwide at Walmart, Barnes & Noble, and Virgin Megastores, and co-founded The Glue Network, a cause-marketing platform connecting consumers, brands, and nonprofits. Key partnerships included Cisco, Hurley, TOMS, World Vision, and Keep-A-Breast, to name a few.
Scott serves on the board of Love Light + Melody, a nonprofit organization working to amplify the stories of vulnerable children and bring them hope through the power of education. Scott is also a founding board member of B Local San Diego, a community of Certified B Corps in San Diego using their power to redefine the role of business and create a positive impact on society.