"It was really important to all of us at Belmont Park that we acknowledged and honored the park's almost 100-year history. BLVR truly helped us pay homage to Belmont Park's past, and celebrate its future with our new visual identity."
— Sarah Abelsohn, Director of Marketing
Belmont Park is a historic amusement park and beach boardwalk in Mission Beach, San Diego. For almost 100 years, it has been a beachside gateway to San Diego and all of the amazing things the city has to offer — the beach, a laid-back outdoors lifestyle, great food and good times, and an amazing mix of cultures. But as it neared the century mark, Belmont Park needed to reimagine its brand to better capture what makes the park so special.
With so many exciting things to do in San Diego, Belmont Park needed to stand out to both tourists and locals alike. And as the only beachside, boardwalk amusement park experience in San Diego, they offered something completely unique. Belmont Park was ready to celebrate all it has to offer and become a must-do San Diego bucket list item.
While there are other attractions in San Diego, and even a few similar destinations in California, it became clear that only Belmont Park could become the quintessentially San Diego version of the oceanside boardwalk and amusement park destination. Only San Diego could offer great weather, beachside access, an incredible blend of culture, food, local business and makers, and a laid-back, good time. And unlike other destinations in San Diego, Belmont Park offered a unique blend of both thrill and relaxation. It was clear they are more than an amusement park or a boardwalk – they are a destination.
The beating heart of Belmont Park was a belief in San Diego's unique culture. That culture is what made them unique from any other amusement park, or boardwalk, or beach. They existed to celebrate San Diego's unique culture and reimagine what a beachside destination could be, only in San Diego.
"Locals love San Diego, and tourists love San Diego."
— Steve Thomas
Brand Identity - Visual
03
As San Diego's only boardwalk, beachside destination, we wanted to bring their belief in San Diego's unique culture to be brought to life through a unique identity. We wanted a modern brand that could last for decades to come, while also calling back to classic decades that embodied San Diego's culture and made it a worldwide destination: from surf culture in the 60s to skate culture in the 70s and 80s.
We started by anchoring our approach to Belmont Park's brand belief that San Diego's culture is unique, extraordinary, and deserves to be shared. We crafted a brand territory that positions Belmont as the Gateway to San Diego, and from there developed an identity that balances the best of the past and future. The arch shape of the icon symbolizes Belmont's role as a gateway to all that San Diego has to offer. The interior depicts the iconic Big Dipper coaster ride and beachside location in a visual style that nods to the park's legacy in the skate and surf scene from the 1960s to the present day. The wordmark shares this same balance, with bespoke curves nodding to iconic rides like the Big Dipper and evoking the whimsy and fun of 1960s design. The brand is rounded out by a modern, clean, and simple design system.
To develop a visual brand language that captured the essence of the park, we turned to its experience. We wanted to capture Belmont's energy and optimism with a bold and vivid color palette, inspired by the vibrant colors of the park and the natural landscape of San Diego. We drew shades from the sand, sun, sky, and water, which resulted in a cohesive and recognizable palette. Additionally, we created a modular secondary illustration and pattern library that can be used across all brand touchpoints from website, collateral, and park signage.
Our branding approach was rooted in authenticity, paying homage to Belmont Park's rich history and San Diego's unique cultural heritage.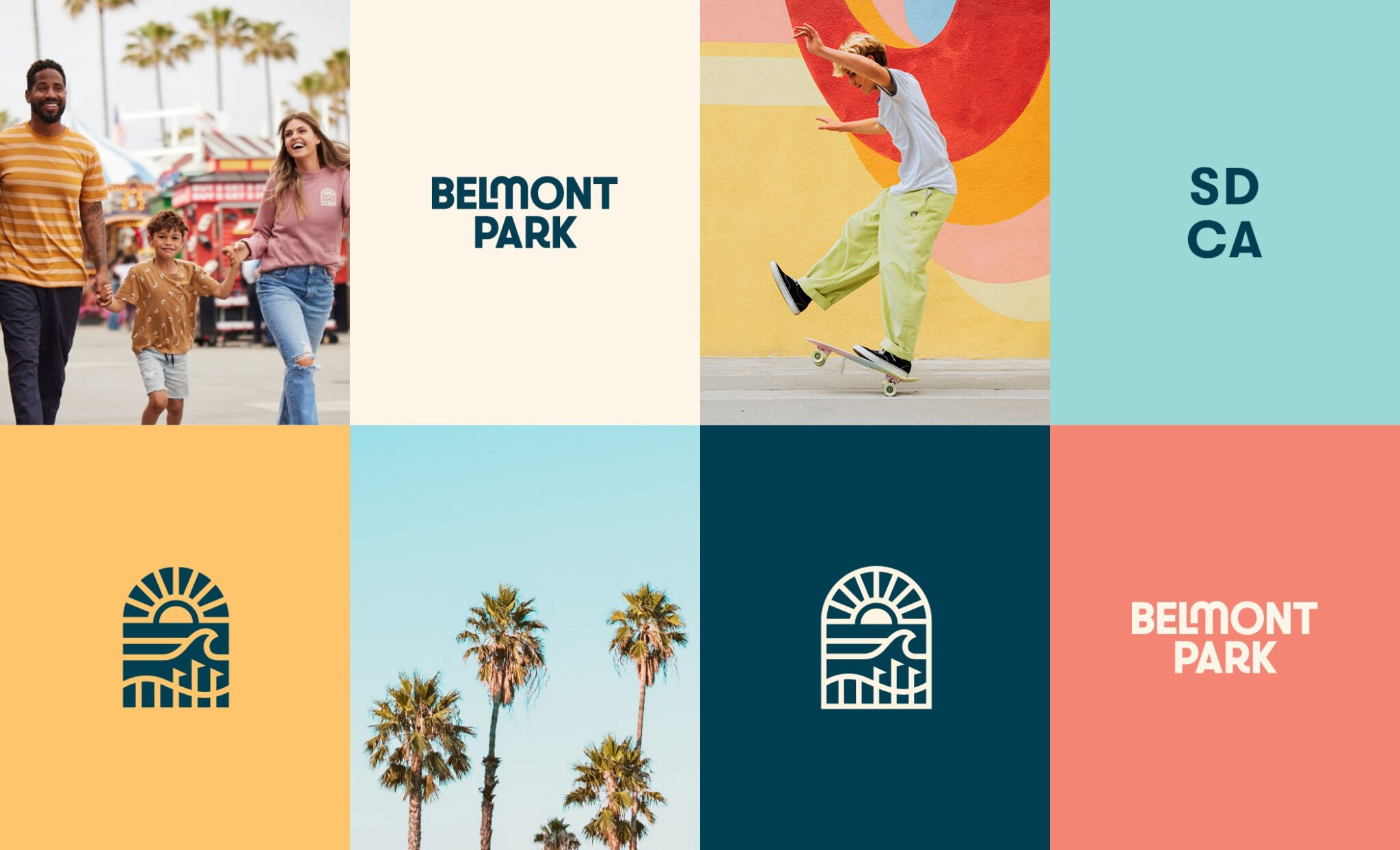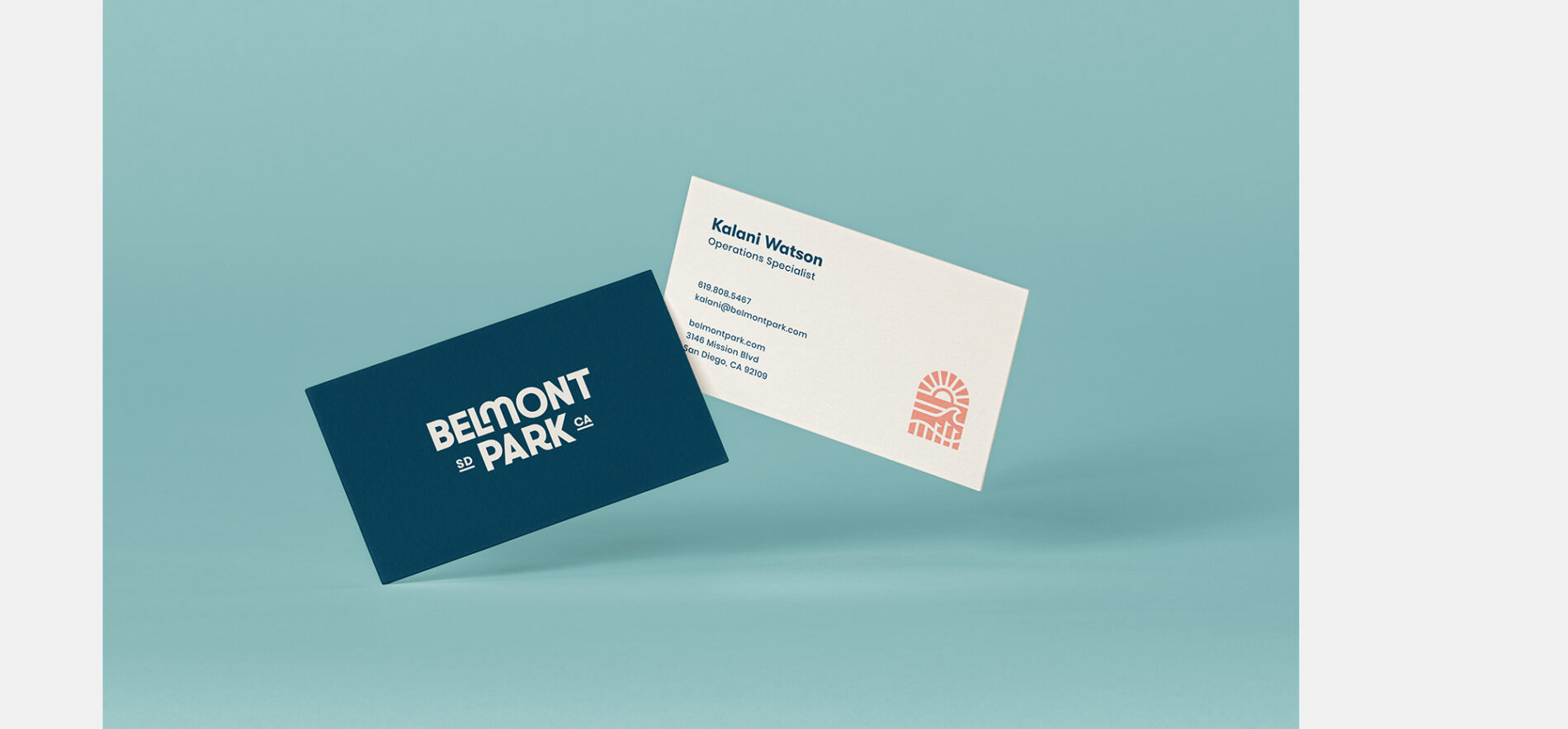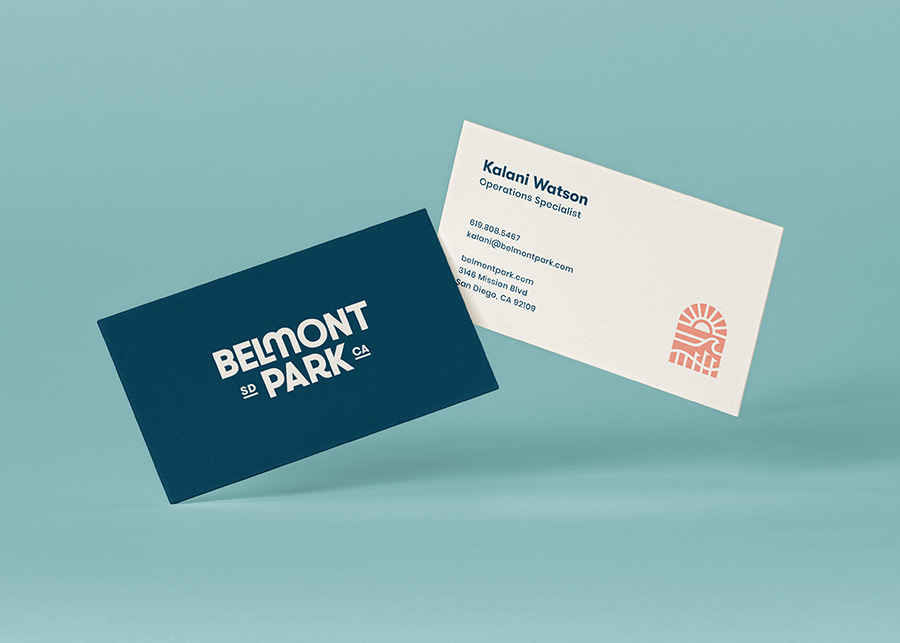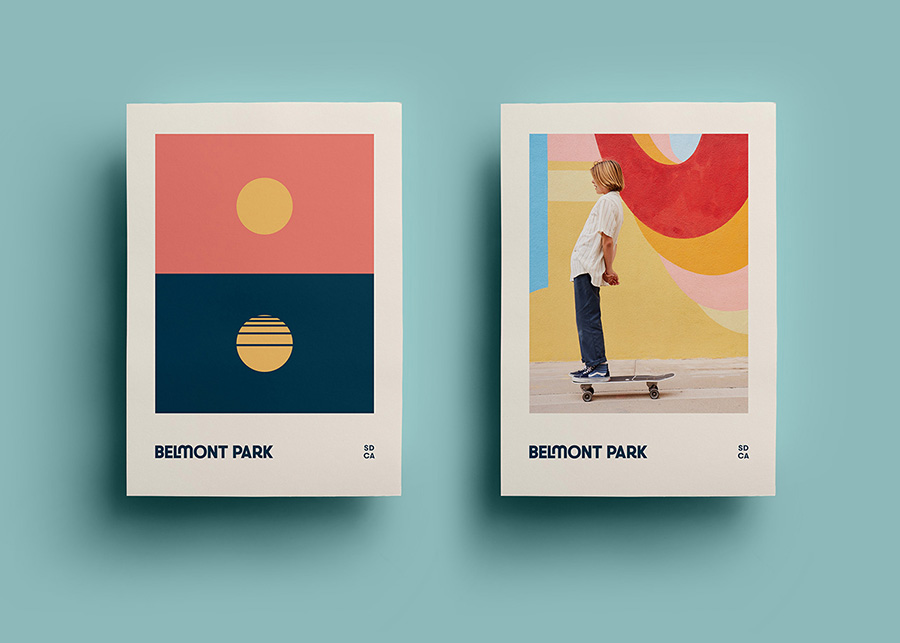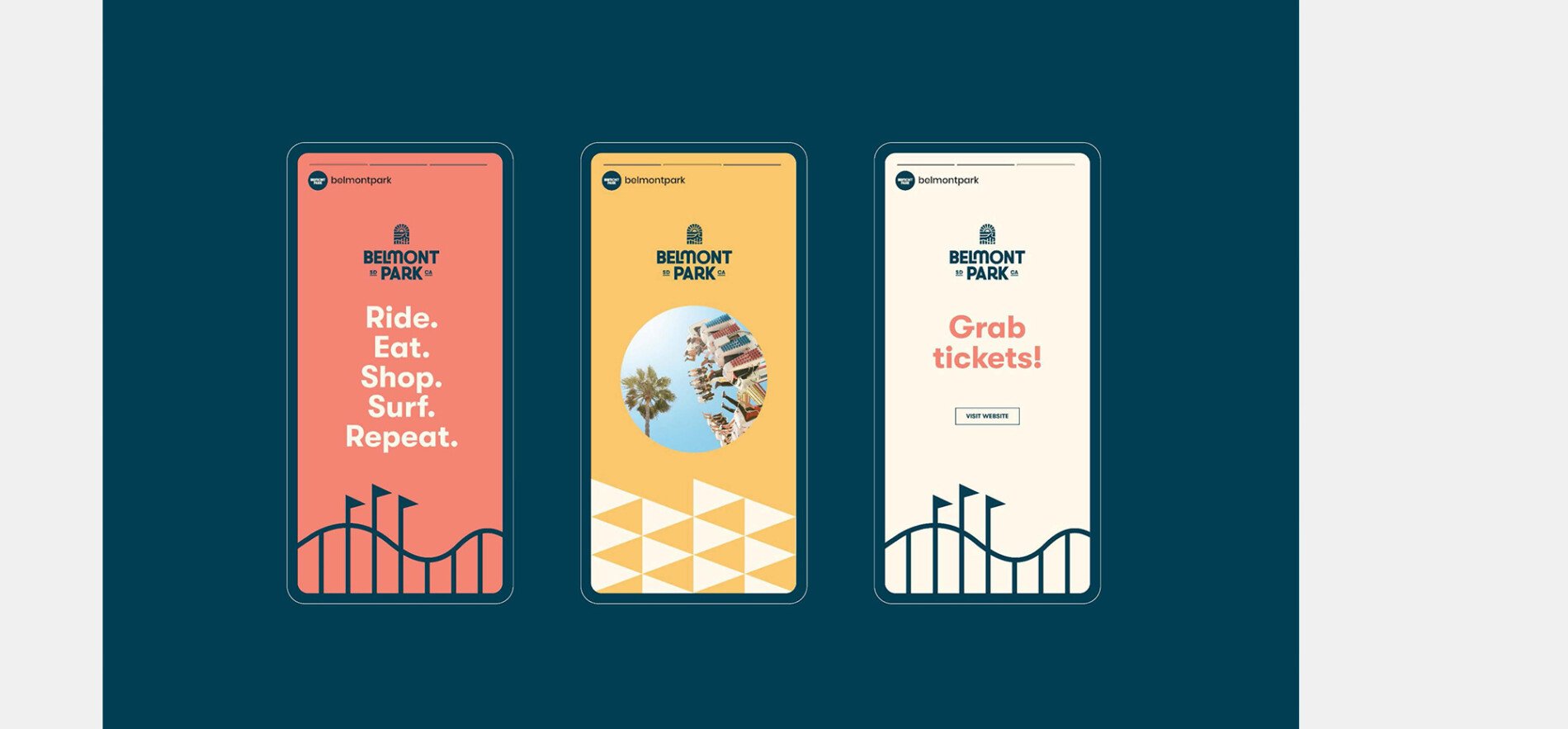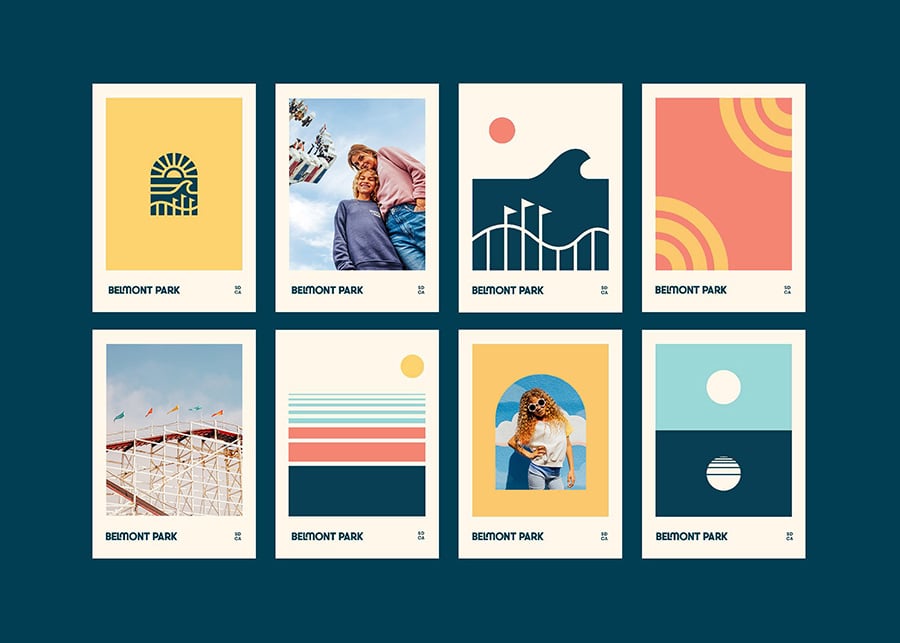 Brand Identity - Messaging Framework
04
To create the park's messaging framework, it was important to establish a tone of voice that was fresh and relevant, while feeling fully authentic to San Diego culture. Locals should be able to embrace the brand and vacationers should feel the beachside energy that is unique to only San Diego. We landed on five distinct attributes that exemplify the brand: Energetic, Welcoming, Authentic, Spontaneous and Optimistic. This tone guided our path in creating headlines, calls to action and a brand story that felt genuine to the city and the park. The strategy led the creative to a singular statement about the brand: Belmont Park has everything you want from a beachfront day in Southern California, all in one place.
Brand Activation - Signage & Content Shoot
05
Signage: Belmont Park is the gateway, the jumping off point, to a truly unique San Diego experience. Whether a San Diego native or tourist, Belmont is the gateway to good times and even better memories. We leveraged the arch shape of the icon for the shape of the wayfinding signs to create a seamless experience from the brand identity to the park experience. We also leveraged the rich color palette to create an organized system of color that coordinated the signage with the park map that allowed for an intuitive wayfinding experience.
Content Shoot: A content shoot allowed us to celebrate Belmont Park and everything it has to offer. The brand voice and ethos that were created through the identity process came out in how the shoot was executed. Moments of spontaneity, energy, and fun allowed for a truly authentic experience. From the mood, wardrobe, and shot list, we leaned into the rich San Diego beach culture to create content that brought out Belmont's unique personality.